Roma Community in Albania
A widespread minority in Albania is the Roma minority. Roma minority live here for more than 600 years (Kolsti, 1991). They came from India shortly before the Ottoman conquest in the middle of XV century. The Roma and Team of the Council of Europe has highlighted that Roma in Albania are officially recognised as a national minority according to law No. 96/2017 on the "Protection of National Minorities in the Republic of Albania", which was adopted on 13 October 2017 by the Albanian parliament.
According to Robert Elsie, the Romani number between 60,000 and 100,000 people. A 1994 estimation put the number at 95,000 Roma in Albania. The ERRC estimates 120,000 Roma in Albania. The most recent 2011 census counted 8301 Romani in Albania but it has been accused of drastically undercounting the number of Romani in the country, drawing criticism from the Council of Europe.
Romani communities are found all over the country; the largest are found in central and southeast Albania in regions like Tirana, Durresi, Elbasan, Fieri, Berati, Korca, Pogradeci, Bilishti, Gjirokastra, Delvina, Kruja, Shkodra, etc. In Albania, there are many groups referred to as Roma including Kabuzis, Meckars, Kurtofs and Cergars tribes – Shkodrani and Besaqe Roma. Another ethnic group which originates from Egypt is the Jevgs, who are generally perceived to be Romani.
The poverty rate among Roma in Albania is particularly high (78%), in relation to the majority (22%).
Contrary to the expectations of many foreigners, investigations have found that discrimination against Roma in Albania is typically subtle rather than overt, and Roma typically do not face any open discrimination. In some cases, relations between Roma on one hand and the Albanian majority and other "gadjo" groups on the other is often quite cordial in the rural, traditional and "non-profit life" and both the majority of the Albanian intelligentsia and the working class are said to typically have positive views of Roma, who rarely if ever are cast as an "ethnic enemy". On the other hand, "gadjos" may be reluctant to accept Roma as equals in the urban and "profit-making life". However, Roma may suffer from the refusal to recognize the distinctness of their identity and traditions while Roma complain that although Albanians do not openly express derision, they may view Roma as poor, dirty, stupid, noisy and involved in theft, and as a result they are widely but tacitly discriminated against in the job market.
During the communist period, Roma of Gjirokastra, Korça, Tirana and Berati worked in handcraft enterprises. However, eventually demand for their products declined, and the enterprises were mostly shut down as Albania transitioned away from communism.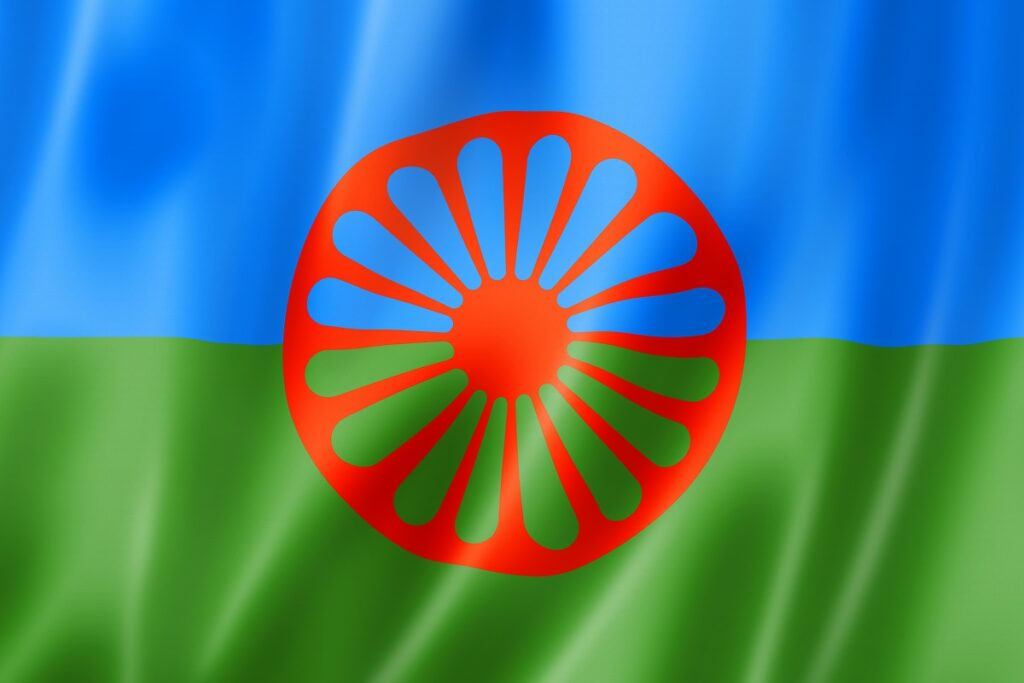 In 2007, it was written by a Roma organization that about 90% of Roma are unemployed, 40% of Roma have bad living conditions, 20% don't have the resources necessary to buy medicine, 40% of Roma families ask their kids to work rather than complete education to fulfill primary familial needs, and that the literacy rate of Roma has fallen since the end of communism, and is now 47.6%, with more women illiterate than men, with all these problems being attributed to a "bustle for racism".
Since the early 80s at the initiative of the Council of Europe and later of the European Commission, the education of Roma minority has been the focus of systematic studies. Socio-economic situation of the Roma minority can change through education. The education for Roma children is a social issue with implications that lie beyond the field of education, and also a community issue with major implications for all people together, not just individually. The purpose of education is to give people tools and means of independence, promoting diversity and respect for different identities is possible only when everyone – especially the identities of minorities-advantage proper means to an active adaptation. Education is a crucial challenge for the Roma minority.